ALIGNMENT CLIPS



Alignment Clips are used to hold the mesh in place prior to inserting the Locking Strip and also ensures that the mesh is inserted straight during the stretching process. Alignment Clips come in a package of 6 clips.
CORNER SOFTENING TOOL

The Corner Softening Tool is used to pre-soften the mesh at the corners during the stretching process. It is made of a durable hard plastic and is rounded to prevent any damage to the mesh.
LOCKING STRIP - UNIVERSAL AND HEAVY DUTY

The Locking Strip is used during the stretching process to hold the mesh to the screen during and after stretching.
Universal Locking Stip - Clear: The Clear is known as the Universal Locking Strip and is used for all mesh counts from 86 and above.
Heavy Duty Locking Strip - Black: The Black is used for all coarse mesh counts below 86. It is slightly thinner than the Clear Universal Locking Stip.
Keep several rolls in your inventory for quick replacement when needed.
CLAMP ADAPTERS


Clamp Adapters are used to place over the roller so that you have a flat surface to clamp down on. It is strongly recommended that you use a Clamp Adapter rather than clamping directly on the roller as this will cause damage to the roller and registration problems during printing.
Clamp Adapters are available for the following frame models: MZX-UL, M3-UL, M6-UL
LIGHT LOUPE


The Light Loupe is a 10x magnifying tool with a large illuminated field. The Light Loupe is perfect for checking film positives, screen stencils, and finished prints on any substrate for registration, resolution, and detail.
ENTRANCE TOOL


The Entrance Tool is used to help guide the Locking Strip over very coarse mesh. Typically mesh counts under 86. The Entrance Tool helps pre-form the mesh into the T-slots so that the Locking Strip can slide over the roller much easier.
FABRIC PROTECTORS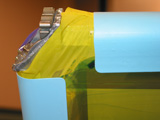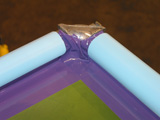 The Newman Fabric Protector is designed to give you the ultimate mesh protection on your Newman Roller Frames. It is made of durable polyurethane and is water and solvent resistant. It is also the only Fabric Protector made that is thin and consistent throughout its length for consistent and even off-contact along the rollers. Just snap it on over the mesh and Newman Mesh Protection Tape on the print-side of the roller and over the Newman Zone or Flex Tape on the squeegee-side of the roller. Standard and custom lengths available.