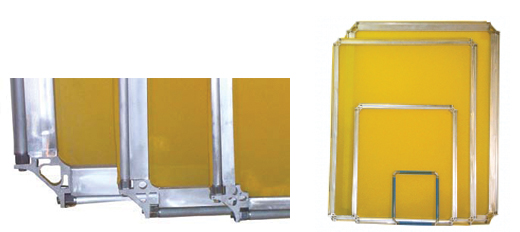 GRAPHIC ULTRA-LIGHT BOX BEAM FRAMES (Custom Sizes Only)
| | | | |
| --- | --- | --- | --- |
| MODEL | ROLLER PROFILE | MINIMUM SIZE | MAXIMUM SIZE |
| M-1™ | 1 1/16" Diameter (Non-Box Beam) | 6" (152.2mm) | 20" (508mm) |
| MZX-UL™ | 1 7/16" Diameter (Non-Box Beam) | 12" (305mm) | 31" (787mm) |
| M3-UL™ | 1 5/8" Diameter (Non-Box Beam) | 16" (406.5mm) | 43" (1092mm) |
| M6-UL™ | 2" Diameter (Non-Box Beam) | 15" (381mm) | 62" (1575mm) |
SMALL & MEDIUM FRAMES
| | | | |
| --- | --- | --- | --- |
| MODEL | ROLLER PROFILE | MINIMUM SIZE | MAXIMUM SIZE |
| M3I1-UL™ | 1 5/8"H x 3 9/16"W (41 x 90mm) | 50" (1270mm) | 88" (2032mm) |
| M3I1N-UL™ | 1 5/8"H x 2 3/4"W (41 x 70mm) | 50" (1270mm) | 88" (2032mm) |
| M3I1A-UL™ | 1 5/8"H x 3 9/16"W (41 x 90mm) | 60" (1524mm) | 110" (2286mm) |
| M6I1A-UL™ | 2"H x 4"W (50 x 101mm | 60" (1524mm) | 122" (3099mm) |

LARGE FRAMES
| | | | |
| --- | --- | --- | --- |
| MODEL | ROLLER PROFILE | MINIMUM SIZE | MAXIMUM SIZE |
| M6I2-UL™ | 2"H x 5"W (50 x 127mm) | 110" (2594mm) | 142" (3606mm) |
| M6I2A-UL™ | 2"H x 5"W (50 x 127mm) | 142" (3606mm) | 188" (4775mm) |
| M6I2AT-UL™ | 2"H x 5"W (50 x 127mm) | 180" (4572mm) | 228" (5791mm) |

EXTRA LARGE FRAMES (Non Ultra-Light)
| | | | |
| --- | --- | --- | --- |
| MODEL | ROLLER PROFILE | MINIMUM SIZE | MAXIMUM SIZE |
| M6I3A™ | 2"H x 10"W (51 x254mm) | 40" (1016mm) | 360" (9144mm) |
| M8I4A™ | 3"H x 15"W (76 x 381mm) | 40" (1016mm) | 480" (12192mm) |
---
CUSTOMER REVIEWS - NEWMAN ROLLER FRAMES - GRAPHICS
---
I finally experimented with the custom Automated Newman Roller Master Machine you sold to Longwood University and LOVED it! If you recall, I was trained in the indirect screen printing (Ulano films) with NazDar inks. I also previously either purchased pre-stretched wooden and then pre-stretched aluminum frames of Medium and Large sizes. (That was awful!)
I am teaching screen printing next semester and am so excited. Thank you for working with me and helping me purchase the correct equipment for our various different types of printing applications!
Kelly Nelson
Professor of Printing
Longwood University
Farmville, VA
---
RETURN TO TOP
I just wanted to drop you a note of thanks for your help in setting us up to use our roller frames with the pin register system. After some initial trouble shooting when we were first starting, our time-saving studies have indicated that we have reduced our on-press setup time up to 70%! We have achieved our goal of increased production capacity, and we are both astonished and delighted at the time savings.
We have installed the pin register system on our Saturn and Ta Chen presses, and have ordered the pins-installed on the new Atma presses that will be arriving soon. The investment in this system has paid for itself with the time we saved during setup.
Ken McCarthy
Screen Dept. Manager
Identification Products Corporation
Bridgeport, CT
---
Images on metal, Inc was introduced and began using Newman Roller Frames in the late 1980's. At that time, we purchased frames for both our textile and flat stock printing facilities. As we learned, control of screen tension is crucial to quality printing. By implementing Newman frames and Newman's Pin Lock system for our textile presses, our printing went to a new level of quality and control.
Our most recent implementations have been the installation of your pin lock system on our M&R Insignia, M&R Saturns and our M&R Eclipse. We also purchased your Rollermaster Screen Stretchers for both our flat stock and textile shops. These upgrades have given us a 60% increase in production and a virtual elimination of rejects.
The technology advances, industry knowledge, and quality equipment of Stretch Devices, along with the exceptional hands on customer service, has been invaluable to the success of our company. Thank you for all your help over the past 15+ years.
Harlan Jacobson
Owner/President
Images on Metal, Inc.
Kasson, MN
---
Yunker Industries has been a Newman Graphic Frame user for over 20 years and they have greatly contributed to our success in producing high quality pop displays and signage for the retail industry. The Newman Roller Frames have been a key element in our ability to consistently produce the quality screen printed images that have made Yunker Industries one of the top graphic manufactures in the country.
Implementing the Newman Roller Frame into our large format screen printing process has allowed us to achieve greater control over image resolution and improved the production speeds on our large format, high speed, inline screen presses. They have given us better ink control, less downtime and reduced our fabric usage, All contributing to Yunker's success as one of the countries imaging leaders.
Today we are able to offer our customers a full range of imaging solutions from our High Quality Screen Printed Products to Digital Reproduction options to meet our customer's needs. The long term integration of the Newman Roller Frames into our production mix has made this growth possible. We look forward to continuing this positive relationship for many more years to come.
Mark Huckstorf
VP/Operations
Yunker Industries
Lake Geneva, WI
---