Before you buy a screen tension meter, we think you should know what makes the Newman ST1E Meter special.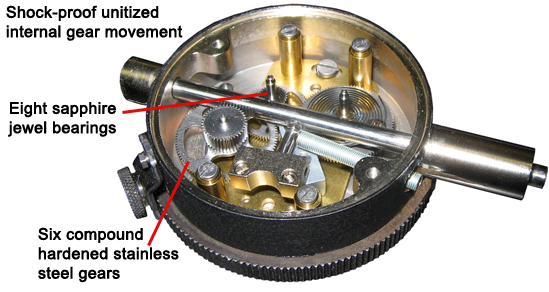 The Newman ST1E Meter is the only meter in the world with all stainless steel hardened gears, shock-proof industrial grade internal gear movement and all jewel sapphire bearings, giving you a screen tension meter of exceptional quality that will last longer and produce consistent readings every time. (All other mechanical meters have non-compound softer brass gears and bushing, greatly reducing their shock-resistance, long-term accuracy and life.) The crystal is shatterproof and curved to avoid glare and the heavy-duty protective aluminum housing makes for the most durable meter made anywhere.
Each Newman ST Tension Meter has been calibrated with weights and instruments that are traceable to the United States Department of Commerce and National Institute of Standards and Technology (NIST).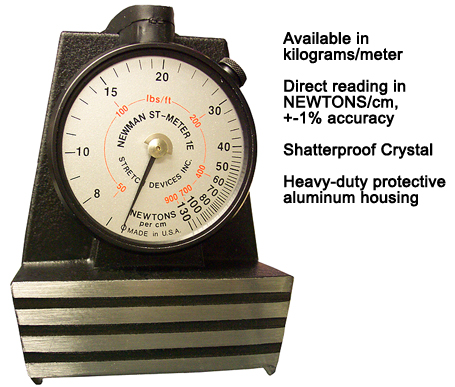 The only bi-directional screen tension meter manufactured in the United States.
ST-Meter 1E ST-Meter 2E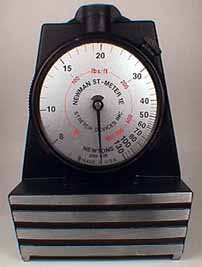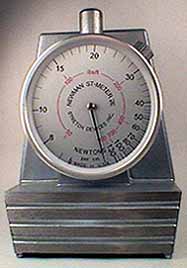 | | | |
| --- | --- | --- |
| Newman ST-Meter Comparison | Model ST1E | Model ST2E |
| Eight sapphire jewel bearings | Yes | No |
| Six compound hardened stainless steel gears | Yes | No (3 brass) |
| Shock-proof unitized internal gear movement | Yes | Yes |
| Direct Reading in NEWTONS/cm +-1% accuracy | Yes | No (+-2%) |
| Available in kilograms/meter | Yes | Yes |
| Shatterproof crystal | Yes | Yes |
| Heavy-duty protective aluminum housing | Yes | Yes |