The Newman PinLock™ Registration System has been developed as a comprehensive strategy to increase productivity in the Textile printing application by dramatically lowering the on-press preparation time. This system, specifically designed for use with Newman Roller Frames®, which utilizes high-tension, distortion-free printing, consists of 3 distinctive steps: Film-to-Screen Alignment, Screen Exposure and On-press Alignment.
NEWMAN PINLOCK REGISTRATION SYSTEM VIDEO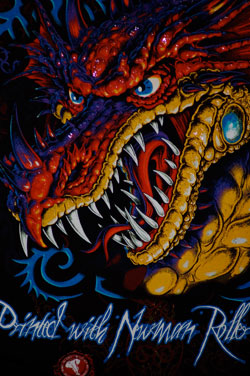 Fast and Accurate Pin-Registered Dragon Print. Set-up Time of 15 minutes to perfect registration for this 11-color design on an automatic press.
See Full Image
Download Spec Sheet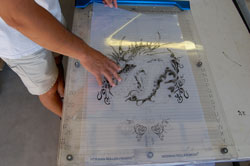 STEP 1: Art Preparation
Provided are pre-punched Carrier Sheets made of optically clear and stable base polyester. These sheets have been punched by our specially designed equipment, resulting in an impressive tolerance of + or - .0002. All art is aligned on these Carrier Sheets, while pinned to the carrier sheet Grid Layout Board. The beauty of this method is its ability to evaluate the film positive alignment or "trueness" and then correct or compensate for any irregularities, distortions, or imperfections that may be inherent in the film positive. This technique promotes objective evaluation of the "alignments" before spending valuable on-press time compensating for such deviations.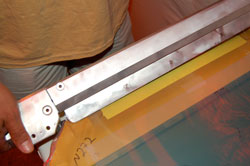 STEP 2: Film-to-Screen Alignment
Film positives, correctly attached to the Carrier Sheets are placed on a PinBar that is attached to the print-side (or mesh-side) of the Newman Roller Frame®.
The PinBar has stainless steel pins that fit perfectly into the stainless steel PinLock™ castings on the Newman Roller Frame®. Each film positive is transferred to the print-side of the screen mesh with clear tape on a flat table or surface. Screens are then placed in the exposure unit – as many screens as will fit at one time. As a result, the images on all the screens become correctly aligned with one another. The exacting relationships of art registration and film-to-frame alignments are unique to the Newman PinLock™ Registration System.

STEP 3: On-press Alignment
The Swing-Out Pallet Fixture™, developed for textile printing will adapt to virtually all automated presses on the market.
It is well suited for simple or any demanding art separation. Well-maintained printing machines, combined with a high-level of proficiency between the operator, art and screen room personnel, can provide very excellent results for even the most demanding butt-register art. The Swing-Out Pallet Fixture™ has the alignment fixture attached directly underneath the printing pallet. When in use, the spring-loaded pins extend upward to the screen's "printing elevation" allowing the frame and PinLock™ to engage into place on the pins. It is either "engaged on the pins, or not". It is simple and very visual. The accuracy is not determined by "feel" or pulling the frame into a corner. Once it is on the pins, the frame is easily clamped into the pre-registered position. The Swing-Out Pallet Fixture™ is simply indexed to the next printing station and the process repeated. The result is fast, excellent pre-positioning of all colors and the Swing-Out Pallet Fixture™ can now be returned underneath the pallet and out of the way. Please remember however, that even the most basic registration systems require a commitment to machinery-trueness, platen flatness, as well as operator proficiency.
NEWMAN PINLOCK REGISTRATION SYSTEM VIDEO
Swing-Out Pallet Fixture for Automatic Presses

Swing-Down Pallet Fixture for Manual Presses

Newman stainless-steel PinLock Engineered for Durability and Accuracy, from one set-up to the next.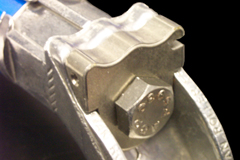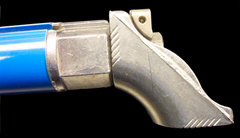 Start-up Kits are available for both Manual and Automatic presses. The Newman PinLock™ Registration System will save you money and increase your productivity in a very short amount of time when a 100% commitment is dedicated to the system.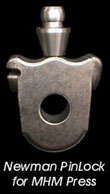 Above are photos of the Newman PinLock for the MHM Textile Press. All components are Stainless Steel to prevent wear.
---
CUSTOMER REVIEWS - PINLOCK SYSTEM TEXTILE
---
We have been a devout Newman Roller shop for over a year now and are extremely satisfied with the results we've achieved using your frames. Recently we invested in the Newman Pin Registration system as well and are very excited once again.
The system (besides being completely idiot-proof and extremely easy to operate) has cut setup time on our 14 color TAS automatic drastically. With one operator, setup time is cut in half, approx an average of 15 min per job including inking the screens, test prints, and adjustments. With an additional person inking the screens and adding squeegees and Floodbars we have gotten setup down to 5-10 minutes per job on 6-10 color jobs. This is an incredible achievement and it is so easy.
The learning curve was minimal at most and within a day or so it had become an indispensable part of our shop. Screen burning is now much faster and easier and I no longer need a key employee to assure that screens are being positioned properly through the burning process.
My claims may seem exaggerated but I assure that they are true. Hats off to you for yet another key innovation for our industry. We're anxiously awaiting your next invention.
Chirs Mitrovich
Alien Graphics
Morovia, CA
---
In our shop, quick set-ups are what we strive for. Due to the Newman Pin Registration System that is on our M&R Series II press, we get quick set-ups. We have set-up an eight color job in just under six and a half minutes with no micro. The average set-up time is under one minute per screen, which includes ink and preproduction test print just today, we set up a four color process run with 3 spot colors in under eight minutes with no micro. We keep our swing-arm registration pallet on the press. We have found that this is a great benefit to us during the production run. If you need to change a screen for whatever reason (different mesh count, torn screen, etc.) it can be done in no time at all. On one production run we had two screens tear. We changed each of them in under one and a half minutes. The two torn screens were changed without any adjustments to the micro-registration adjustments. With the swing-arm registration pallet on the press, this turns what used to be major downtime problem into a quick and easy routine screen change. On the new press we just received, we ordered a swing- arm registration pallet. When printing at twenty (20) shirts a minute (100 dozen per hour), we went from five (5) minutes to one and one half (1 1/2) minutes setting up a screen. When comparing the two times, the difference is seventy (70) shirts printed with the faster time. It didn't take long for our investment into this registration system to more than pay for itself; it's now PROFIT!
All of this has allowed our print speeds to be in excess of one-hundred dozen prints (100) per hour, with virtually no build up of ink during the print run. In the past 4 months that I have been here we have doubled our production rate and improved the quality of our printing due to many of your products.
Monty L. Hand
Company X/DTI, Inc.
Columbus, OH
---
I just wanted to let you know how pleased we are with your new "Pin Registration System" we installed in August. My production managers have been keeping record of set-up time and any other related cost savings the registration system has contributed to. We are pleased to inform you that registration of an eight color print is now just slightly above fifteen minutes. This compares in sharp contrast to an average of one hour prior to the new pin system. Outstanding!
In addition we are saving approximately 1-2 minutes per screen in pre-press due to the pin system allowing us to skip physical taping of film to the mesh before burning. (Now the screens just drop into the pins on the vacuum table.)
This project took a little convincing on the shop floor, but after a couple of weeks and one extra trip back from your factory rep – which we appreciated the quick response you gave us on – we're very, very pleased. Overall you've backed up your claim of "drop-in-and-go" and your people have been great.
Kyle Morrison
President
Demco
Chicago, IL


---
I wanted to drop a short line about our use of the Newman Roller frames in our production facility here in Kansas City. Eagle Products has been in business since the early 70's as a screen printer of resort wear along with our own line of pre-prints. We have multiple automatics and short run manual presses. We where looking for a way to both increase production and take our quality of printing to the next level. At that time we were 100% glued-frames and had an inventory of over 10,000 low-tension frames. We attended a Stretch devices seminar in St. Louis that year and our eyes were opened to the advantages of using retenstionable frames along with pin registration. It was shortly there after that we placed our first order for Newman Roller Frames along with the Newman Pin registration System for our production plant.
What a dramatic change! The first thing we noticed was the Newman Roller frames allowed us to gain more control of the frame to pallet relationship (palletization) for controlling off-contact, levelness, ink deposit and press speed. Between the Frames and the pin system we gained in press speed while decreasing press set-up times so we could start fazing out our old multiprinters without impacting our production numbers. We also found out that the low-tension screens were requiring far too great of off- contact which needed greater squeegee and flood bar pressure which of course added significantly to the stress of the mesh and its failure. We where dramatically able to decrease mesh cost using the Newman Roller Frames.
The greatest impact that we saw was when we took delivery of our new M&R press. Suddenly the entire system package came together. High tension, stabilized mesh, and pin registration. The speed production system was in place! Better resolution, brighter ink colors less pre-press downtime, faster set-ups, and for us the ease of repeatability. One more quick note: adding the Newman Roller Master to our production loop allowed us to cut overhead and cost by decreasing our screen stretching and maintenance department from 3 employees to 1 while increasing the ability to have and maintain constant reliable screen tension for every job we print. I'm only sorry that we did not take pictures of the of the glued-screens (10,000) that where replaced by the 600 Newman Roller Frames.

Wes Robinson
Operations Manager
Eagle Products, Inc.
Kansas City, MO


---
Images on metal, Inc was introduced and began using Newman Roller Frames in the late 1980's. At that time, we purchased frames for both our textile and flat stock printing facilities. As we learned, control of screen tension is crucial to quality printing. By implementing Newman frames and Newman's Pin Lock system for our textile presses, our printing went to a new level of quality and control.
Our most recent implementations have been the installation of your pin lock system on our M&R Insignia, M&R Saturns and our M&R Eclipse. We also purchased your Rollermaster Screen Stretchers for both our flat stock and textile shops. These upgrades have given us a 60% increase in production and a virtual elimination of rejects.
The technology advances, industry knowledge, and quality equipment of Stretch Devices, along with the exceptional hands on customer service, has been invaluable to the success of our company. Thank you for all your help over the past 15+ years.


Harlan Jacobson
President
Images on Metal, Inc.


---
Since my arrival at Jones and Mitchell Sportswear in December of 1996, we have incorporated several of Stretch Devices products into our operation. We have also refined our application of those products that were already in use. The following is a brief list of these products:
Newman Roller Master
M3-23x31 and MZX- 18x20 Roller Frames, we use 100% Newman Roller Frames
Newman's Pin Registration on all automatic presses
Stretch Device's Purple Screen Tape
Newman's Mesh Locking Strips
Newman's Hydra, Vector, and Vector R, Flood-bars
Newman's Squeeges for the M&R Gauntlet
The introduction of the above mentioned products and the application there of, has been nurtured by Stretch Devices and it's knowledgeable representatives. I can't say enough positive things about Stretch Devices, and the technical support that I have received from your company.
Our relationship with Stretch Devices has been a major financial investment, but the return on the investment has been substantial. On an average four-color job, scheduled to an automatic press; our setup times have been reduced by approximately 65%. The quality and service that we have received from Stretch Devices has been impeccable, thanks.
Shawn Dial
Director of Operations
Jones & Mitchell
Olathe, KS
---
We started to convert our shop over from stretch and glue screens to the Newman Roller Frame system. In addition to using the frames, we also employed the pin registration option and have been talking advantage of all of the benefits ever since.
As you know we print exclusively for No Fear Inc. and their production demands push us to the limit and hold us there. We need to maximize every available production minute and this system has helped us to do that.
By having all of our current designs filed on the carrier sheets we can set up, expose and process the screens for an average 6 color design in under 30 minutes with a two person crew. These screens can then be taken to any of our M&R machines loaded in, and registered in 10 minutes. Once squeegees, floodbars and inks are in, a test print will tell us if there are any adjustments to be made and we are ready to print. This system will beat the fastest manual set up person anytime.
The Newman Roller Mesh is a big time saver as well. Our screens average 55 to 60 newtons on each of the 5 mesh counts we use and once they reach this point they are stable. We can cycle them through thousands of impressions and multiple reclaiming with just a few newtons being lost, this translates into less labor costs due to less retensioning.
We are committed to the Newman products because Newman is committed to making screen printing easier and more profitable.
Dan Goldberg
GM
La Costa Silkscreen, Inc.
Carlsbad, CA
---
Those of us that deal with screen printing on a daily basis are painfully aware of the ever present and sometimes overwhelming variables. Becoming one of the largest contract apparel screen printers in the industry has made this all the more obvious as we have grown. After much consideration and research, we decided to contact the gang at Stretch-Devices to see what they could offer as a solution to some of our problems. Well, as you can guess by now, we were more than pleased, we were ecstatic! Stretch-Devices came in to our facility, surveyed our plant, our employees and our equipment prior to making any suggestions or recommendations. Once all aspects and angles were surveyed, Stretch-Devices and Liberty Screen Print made a commitment to have all appropriate areas, (i.e. Art, Screens and Production) set up on the pin registration system. Although this would involve extensive work in all areas, Stretch-Devices was committed, as were we, to making our operation as streamlined and efficient as possible.
The pin registration system is a very accurate and easy system to use. It allows us to basically pre-register all the artwork prior to burning screens, therefore minimizing missed placement and shortening set-up times considerably. We have cut our set-up time by approximately 40% and our re-burning of screens for placement issues by almost 80% since installing the level 2 system. Within a year we plan to knock our current set-up times down by at least 40% and it's feasible that our re-burn's for placement could virtually disappear.
In addition to our pre-press registration system, stretch has also helped us with many other areas of our production facility. They have provided us with several cutting edge tools like the Vector series flood bars and the LOC (Level Off Contact Gauge). These tools and Stretch-Devices commitment have made great difference in our ability to produce a quality product in a timely manner for our elite clientele.
Dale Scott
Plant Manager
Liberty Screen Print
Madison, NC
---
We have been using the Newman Pin Lock Register System and Pallet Attachment for the past six months in our shop and I am pleased to say with very good results.
In both the screen exposure and press areas we have noticed significant improvements to our production.
In the screen exposure area registration of multi-color jobs can be exposed much faster and more accurately using the register pins and carrier sheets. Anyone in the shop can now expose screens using the system and get accurate results every time without any special procedures. We have cut several minutes off the time needed to register and expose screens.
Over in the press area on both our 6 color Gauntlet and 12 color Challenger the pallet attachment has decreased set-up time and increased production time on every job. Using the system only minor adjustments, usually only on 1 or 2 colors needs to be made. If there should be a screen rip or failure the press can be up and running again within: ten minutes from exposure to press by having the art filed on the carrier sheets.
The register system has become a necessary and important part of our printing operation. It was easy to learn how to use and now everyone relies on the accuracy of the register system.
Nick D. Maccaroni
President
MaxTex, Inc.
Berlin, NJ
---
Mind's Eye Graphics, Inc. is a textile screenprinter which was established in 1984. I personally have watched & participated in the maturation of the screenprinting process from the late 1970's. We purchased our first M-1 roller frame in 1986, that's right just 1. Today our inventory numbers close to 500 in assorted sizes and applications.
In addition to our inventory of roller frames we purchased one of your first manual pin registration systems at the SPAI show in 1994. The impact of the pin registration system on our production was dramatic to say the least.
After a short learning curve the system started to make it's presence known throughout the shop. As every printer since the beginning of time our shop had come to rely on certain so called shortcuts and bad habits to correct problems as they would occur in the sceenmaking & printing process.
However, if you use a shortcut once to correct a problem you have saved time, if it becomes part of daily operations you are compromising efficiency. Stretch Devices' pin registration system has prevented us from accepting compromise as we have integrated your products into our production process.
To best describe the impact of your products on our operation I must use the word Professionalism. By this, I mean that using a pin registration system things are done right the first time almost every time. From art creation, initial registration, imaging, and setting up the press problems are reduced or eliminated by the system. When problems do occur the troubleshooting time is greatly reduced because of the predictability of the registration process
Additionally, screen room staff training is much quicker as the science of screenprinting is further defined by products such as yours.
Stretch Devices has played an important part in the current success that our industry in general and Mind's Eye in particular is experiencing. As a user of your products in our manual operation since the very beginning, when it came time to enter into the arena of automatic production your roller frames were the only option for Mind's Eye. A 10/c 12 station press was our choice and the first item-on my list of options/requirements was compatibility with our proven Stretch Device's technology
A mandatory part of our upgrade was 100 M3/M3A frames factory stretched with roller mesh as part of the initial production line package. This decision was based on minimizing the learning curve as we converted from manual to automatic printing. By using high tension minimum off contact printing I knew I could rely on consistent results as we offered this new service to our clients.
Gregory F. Kitson
President
Mind's Eye Graphics, Inc.
Decatur, IN
---
I am writing to let you know how pleased we are with the new pin system that you installed on our M&R Challengers.
We are always very skeptical of how much money every sales rep is going to save us if we would only buy their product. This is why we took so long to make our decision with your pin system.
I'm happy to say, CONGRATULATIONS! This is a pin system that really works. As you are aware we do a lot of short runs that result in up to 40 screen changes per press per shift. Since we installed the pin system we have be able to make as many as 80 screen changes per shift. If that's not a testimonial worth printing then tell the skeptics to call me direct.
Fred Wright
Ohiopyle Prints
Ohiopyle, PA
---
For many years Smoothreads, Inc. has been using your Newman Roller Frames but only within the last couple of years, have we converted over from stretch and glue aluminum frames to 100% Newman Roller Frames.
It was a necessary part of our continued efforts to improve in all aspects of our production towards high quality and efficient printing. In addition to the frames, we have also added your Newman Roller Master and Newman PinLock Registration System. The implementation of these upgrades has given us an increase of a minimum of 50% in production and a greater level of control and quality. In hindsight, we should have made the conversion sooner.
Your products have allowed us to continue our growth to the next level. Simply adding new automatic machines and film processors were only part of the solution.
On a personal note your support has been unbelievable. Whenever we have had questions you have promptly replied and most of the times have come out to the shop to be hands on.
Lance Beesley
President
Smoothreads, Inc.
Poway, CA
---
A quick note to share with you how pleased my staff and I have been with the service provided by Stretch Devices.
Your patient communication with our press manufacturer's representative, to learn the specifics of Javelins for the first time, and communicate with a work force where English is their second language. You both formed a team that was so knowledgeable, so professional, and so respected by the workers that they were able to tweak the presses and communicate with the workers flawlessly.
Since our implementation of your pin registration system, press set-up time has been significantly shortened, from both the physical advantage of the pin system, and the understanding of the set-up that was communicated to the workers.
Helen S. Bowers
Managing Partner
Sportswear Unlimited
Bedford Hills, NY
---